Optimate 4 Dual Program Battery Charger CANbus Edition (TM350)
---
Regular price
Rs. 8,000.00
Connect & forget!  No more problems!
Product Description 
OptiMate 4 CAN-bus edition, the most advanced 12V battery saving charger for your high performance or touring BMW motorcycle – Most popular BMW motorcycle charger world-wide!
Includes the OptiMate adapter/ extender (O-09) that connects directly to the 12V DIN socket on BMW motorcycles.
Automatic KEY-LESS activation and continued 24/7 safe long-term maintenance – Connect and forget no more battery problems!
Dual Charge Program – select alternate 'direct to battery charge mode' when necessary to SAVE a 'dead flat' battery from as low as 0.5V.
Advanced and accurate testing before and after charging.
OptiMate's 24-7 smart maintenance guarantees more battery power, longer battery life!
IDEAL FOR: AGM, GEL & STD 12V batteries from 3 – 50Ah
CHARGING AMPS: 1A (constant current)
CHARGING VOLTS: nominal: 12V range: 0.5V – 14.4V
OPERATION:  Fully automatic
STEPS: 8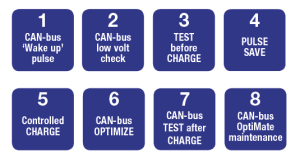 FEATURES: Automatic KEY-LESS activation and continued maintenance until charger is disconnected. Safe low voltage pulse desulphation.
USE: Indoor / Outdoor  (lowest temperature: -40°F / -40°C).
INPUT: Global (100-240V 50-60Hz), high efficiency (CEC listed).
STYLE: Weatherproof case with wall mounts, with 6ft / 180cm AC supply lead and 6ft / 180cm charge lead ending in SAE connector.
SAVE : Low Volt Start of 0.5V  2-step* desulphation recovery (*1-step low volt pulse save during CAN-bus mode).
SAFE: No risk of overcharging. Totally safe for vehicle electronics. Sparks suppressed. Safe for long-term battery maintenance. Automatic shut-down if short-circuited or battery disconnected. 3-year limited replacement warranty.   OptiMate 4 CAN-bus edition is delivered with program 2 pre-selected.
INCLUDED: BIKE 180° plug adapter-extender & standard battery clip set
WARRANTY: 3-year limited replacement warranty.
Product Specifications 
12v 1A output
8-step charge cycle
Designed for Lead Acid (AGM, GEL or STD) batteries
What's in the box?
Optimate 4 CANBus Edition
SAE Battery Leads
SAE DIN Extender
SAE Crocodile Clips Lead
Compatibility Warning
Suitable ONLY for Lead Acid (AGM, GEL or STD) batteries
ORDER - SPECIAL TERMS & CONDITIONS

OPTIMATE PRODUCTS WILL SHIP OUT in 4-5 BUSINESS DAYS once order is placed.
KINDLY CONFIRM WITH US ON EMAIL / WATSAPP BEFORE PLACING AN ORDER FOR THE PRODUCT AVAILABILITY.

Images shown for illustration purpose only.

Actual product may vary in finish, specifications, look without any discretion from manufacturer.

Refer to your vehicle's user manual for more details before placing the orders.

OPTIMATE

products do NOT

 

qualify for any exchange, returns, refunds or replacements as per listed return policy.
All claims for warranty to be handled by manufacturer directly under official India Channel partner as per official warranty terms.
VEHICLE COMPATIBILITY
This product is universal, and can fit on most motorcycles. Universal
Related Products
---