AGV K6 Minimal Gunmetal Black Fluro Yellow Helmet
---
Regular price
Rs. 43,499.00
The best helmet for any use, made from technologies developed for MotoGP™.
Finally, a comfortable, versatile, and safe road helmet for any use, any motorbike, and any rider thanks to the same advanced materials and innovative technology used to help world champions achieve the maximum in the most extreme conditions.
Everything you need is now combined with everything you've ever wanted.
AGV takes aim to fulfill all of your motorcycle helmet needs by harvesting the best characteristics from sport and touring helmets and infusing them into the AGV K6 Hyphen Helmet.
Its shell is comprised of carbon and aramid fiber for excellent protection and weight savings. The helmet's versatility comes from its aerodynamic shape that works well in any riding position. Four different shell sizes allow for a broad size range to better fit your particular heard circumference and shape.
Moisture wicking liners absorb sweat to keep you comfortable on extended rides.
The AGV K6 Helmet is the culmination of all of AGV's road helmet technology to create a single helmet for all riders. 
Features:
Carbon-aramid shell
4 shell sizes: XS-SM, MS, ML-LG, XL-2XL
5 density EPS in 4 sizes
Collarbone safe profile
5 adjustable front vents
1 wide rear vent
Shell shaped designed to reduce turbulence and optimized for all riding positions
Ritmo and Shalimar fabric cheek pads
Shalimar fabric head liner
Abrasion and water resistance neck roll for extra durability
2Dry moisture wicking system
Eyeglasses friendly fit
Removable breath guard included
K6 helmet specific 4mm thick, anti-scratch Pinlock-ready face shield
Pinlock lens insert included
Innovative shield pivot reduces size and weight
Double-D chinstrap
ECE approved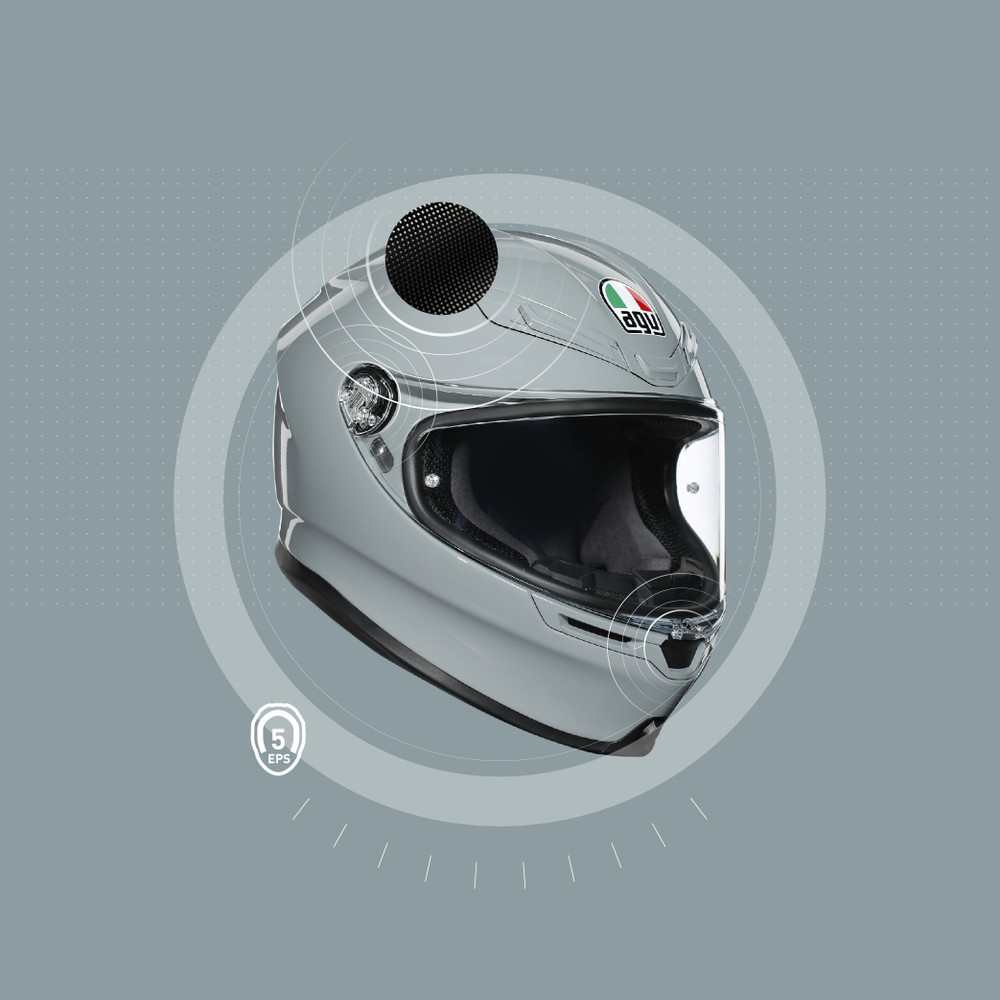 A protection that exceeds every expectation

K6 provides the security riders need to fully express themselves in any situation, thanks to its world championship level protection.
The premium carbon-aramid fiber shell and five EPS densities offer the same protection that professional MotoGP™ riders are guaranteed. The protective capacity is 48% higher than that required by legislation.
All this plus lightness like none other.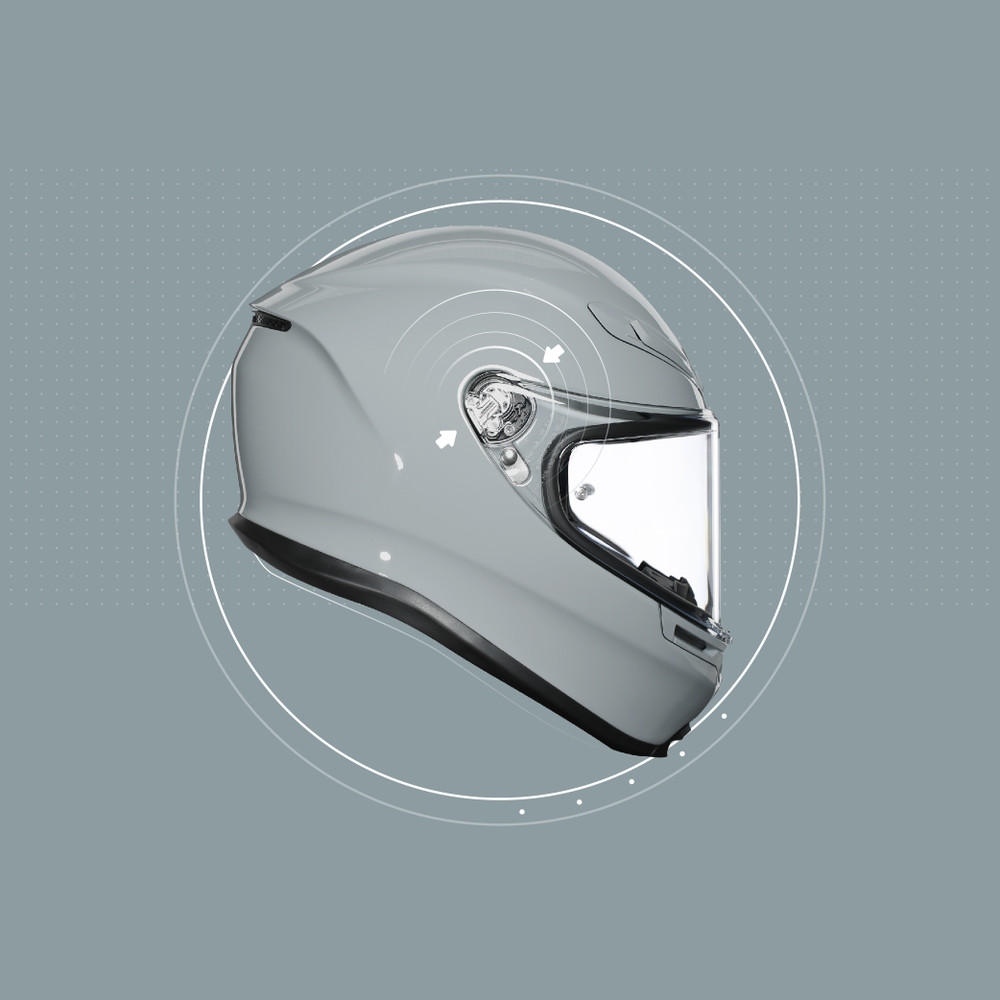 Every detail is designed to protect
Every detail of K6 is designed to guarantee the safety of its wearer. The visor mechanisms are incredibly small, to maximize EPS on the surface and maximize the area covered by ​​the shell.
The profile of the helmet is designed to minimize the chances of impact with the collarbone.
An AGV invention, now a racing world standard.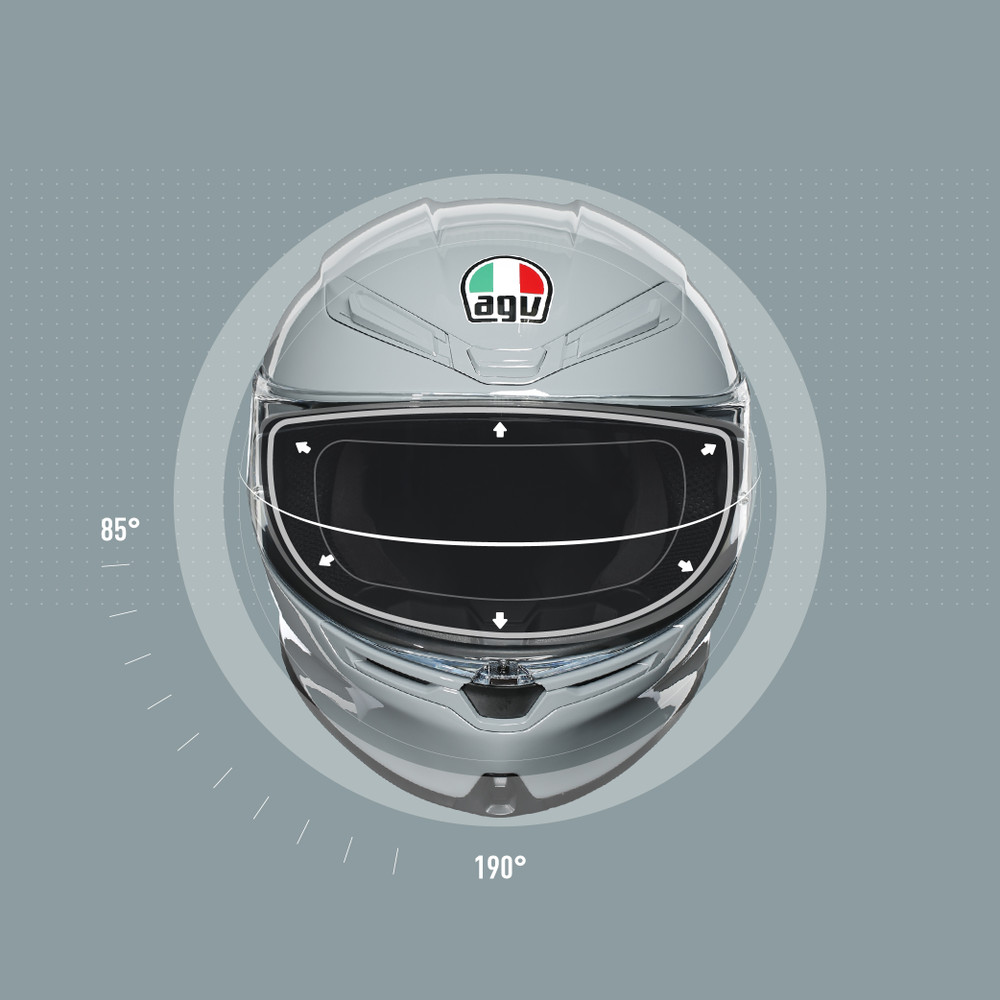 Ultravision: see more,under any circumstance
Exclusive AGV Ultravision guarantees 190° horizontal field of vision which means seeing the road, the corners, and the obstacles better, and ahead of time.

The Optical Class 1 visor features the 100% Max Vision Pinlock 120 anti-fog system and is up to 4.3 mm thick.

The Micro-Lock system allows the visor to be opened
for air flow while keeping the visor securely fastened to the chinguard. High level characteristics that are designed to instill the confidence needed to win a world championship and that are now available on a helmet for any use.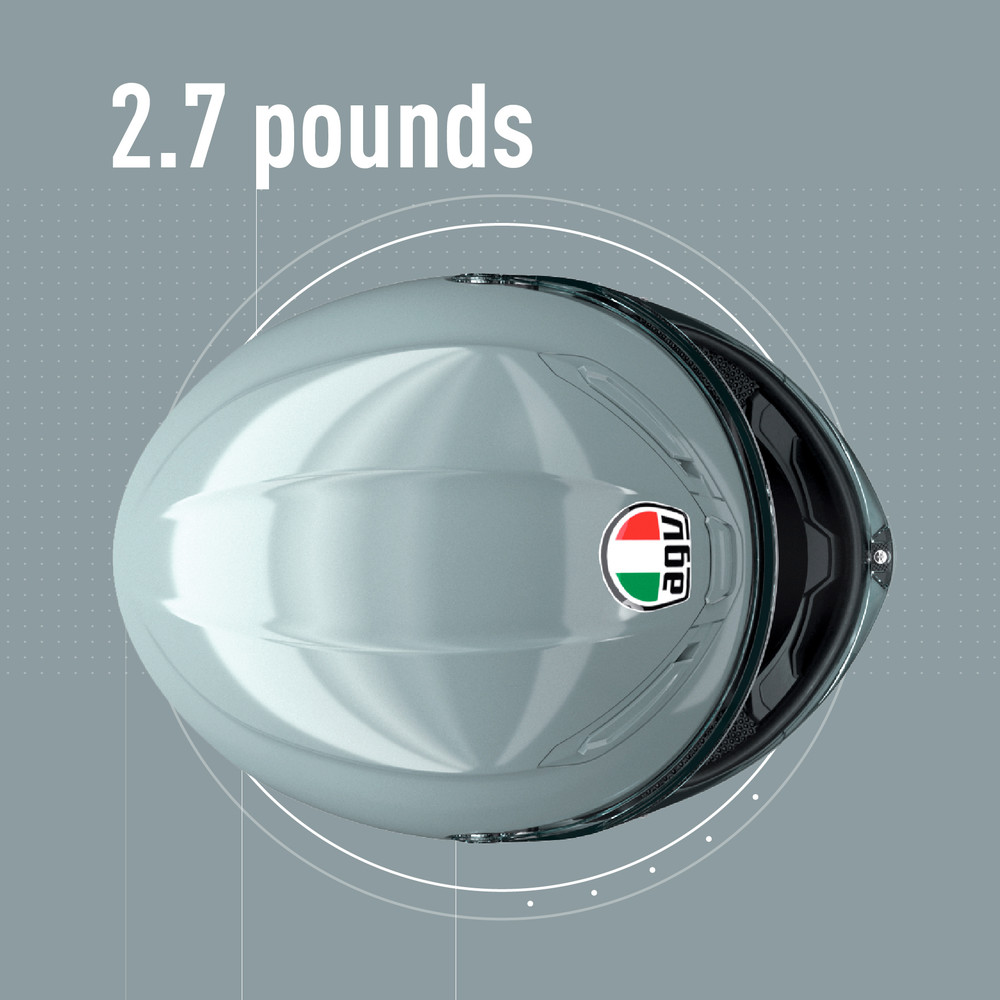 Put it on, you barely feel it
A mere 2.7 pounds (approx 1220 grams).
The premium materials used for the shell and the innovative technological solutions reduce the weight of the K6 to a minimum, making it one of the lightest road helmets in the world. It is the lightest helmet ever in its category. This lightness makes riding comfortable and reduces fatigue so that you can tackle even the longest trips without getting distracted.
The only thing you'll feel on your head is total comfort.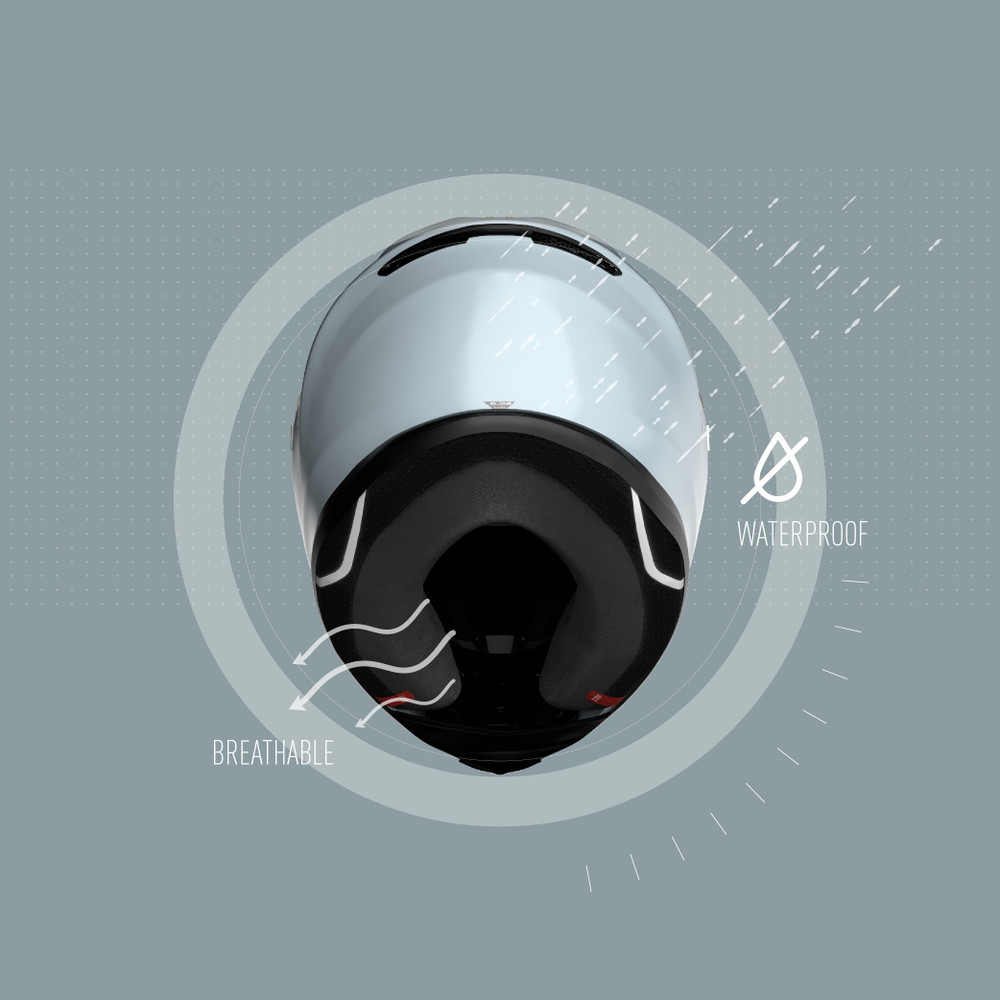 The quality of the interior really makes the difference
The interior of the K6 is made of select materials developed by AGV to meet the needs of MotoGP™ riders who take on the most extreme conditions on track. The external liner is made of wear-proof, waterproof fabric that keeps water out even during the heaviest rainfall.


The interior liner is made of a breathable fabric that absorbs sweat in record time, leaving your face dry at all times.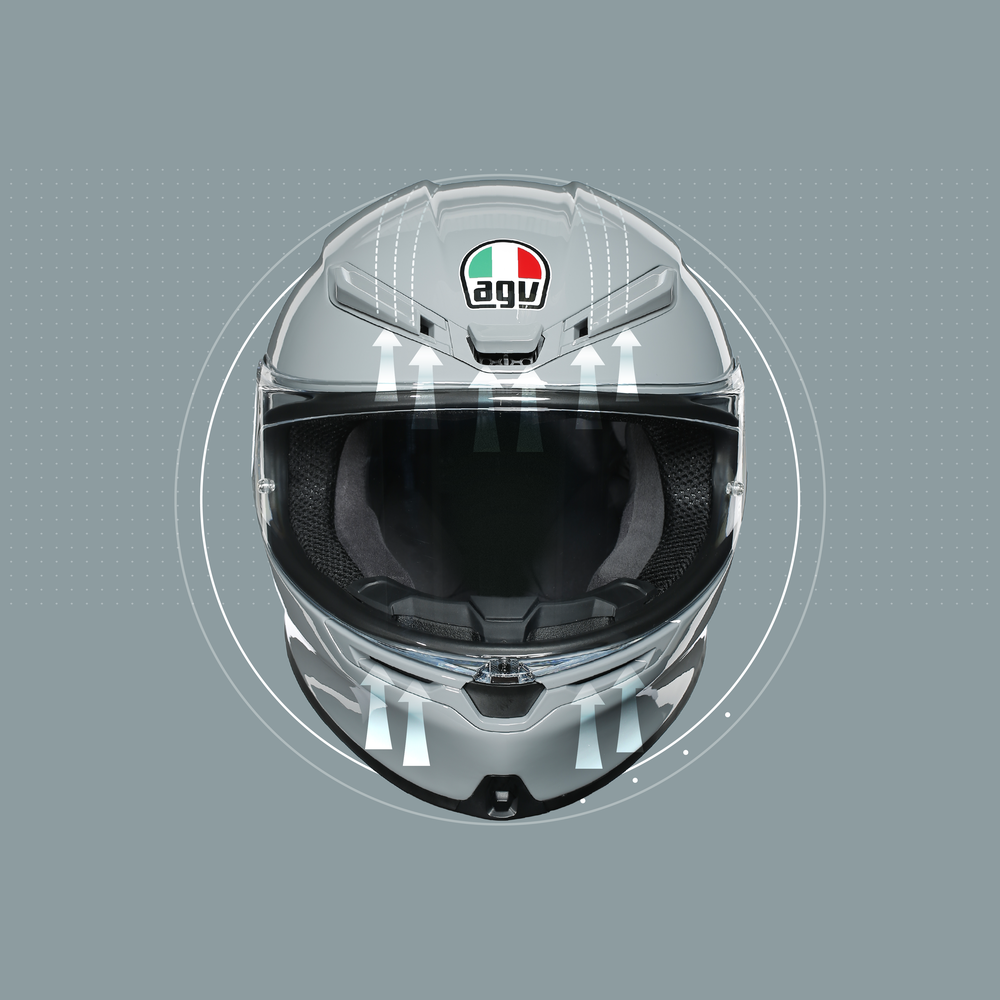 Perfect ventilation no matter what road you take
Five large air vents are positioned where the greatest air flow is so that you can personalize ventilation and get the most under any conditions. The central air vent is located at the point of maximum air pressure to ventilate inside the upper part of the helmet. The ergonomic shape of the adjusters is optimized for use while wearing gloves. The visor comes with the AGV Micro-Lock system which offers another air entry point without affecting the protective capacity at all.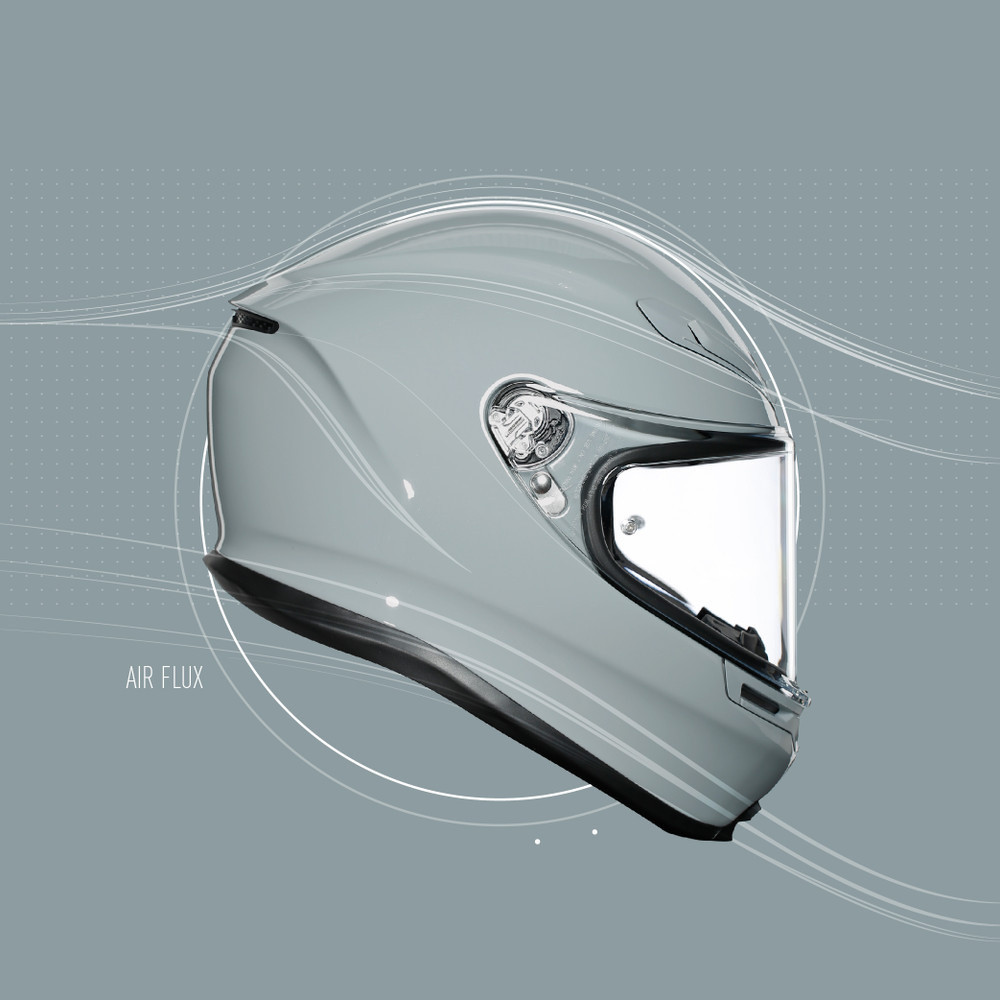 Cuts through the air without moving:
aerodynamics you can feel
Aerodynamics do not just help with lap times. Thanks to the exclusive design of its shell and the rear air extractor, the K6 cuts through the air and maintains great stability even at high speeds.
This is an advantage in terms of performance and comfort, both for sports riding on hairpin turns and during long trips on highways. You'll feel the difference, in any situation.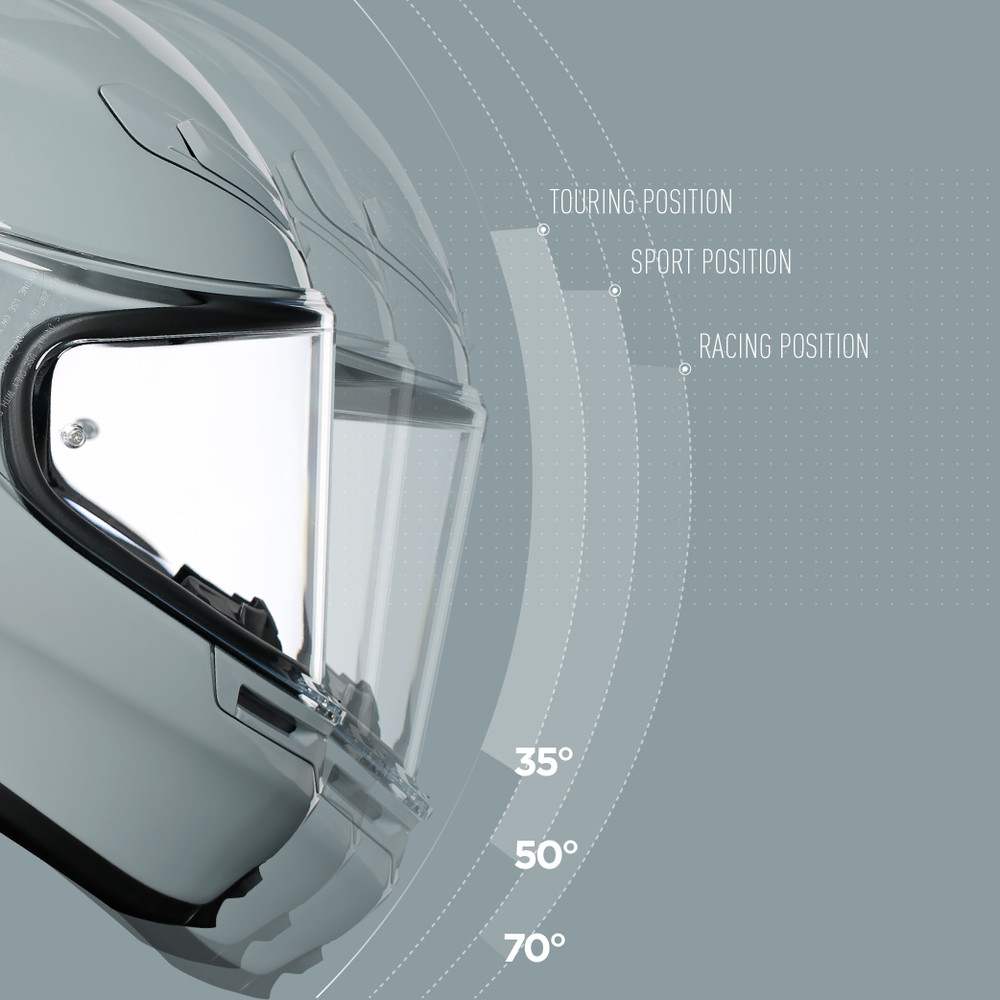 Always the right position for maximum performance
The K6 is designed for optimal performance no matter the riding position, whether comfortable for cruising and sport touring, strenuous for traffic-filled city streets, or sporty, tucked inside the fairing.
Its aerodynamic performance is exceptional regardless of what you're used to in order to meet every rider's need in any situation.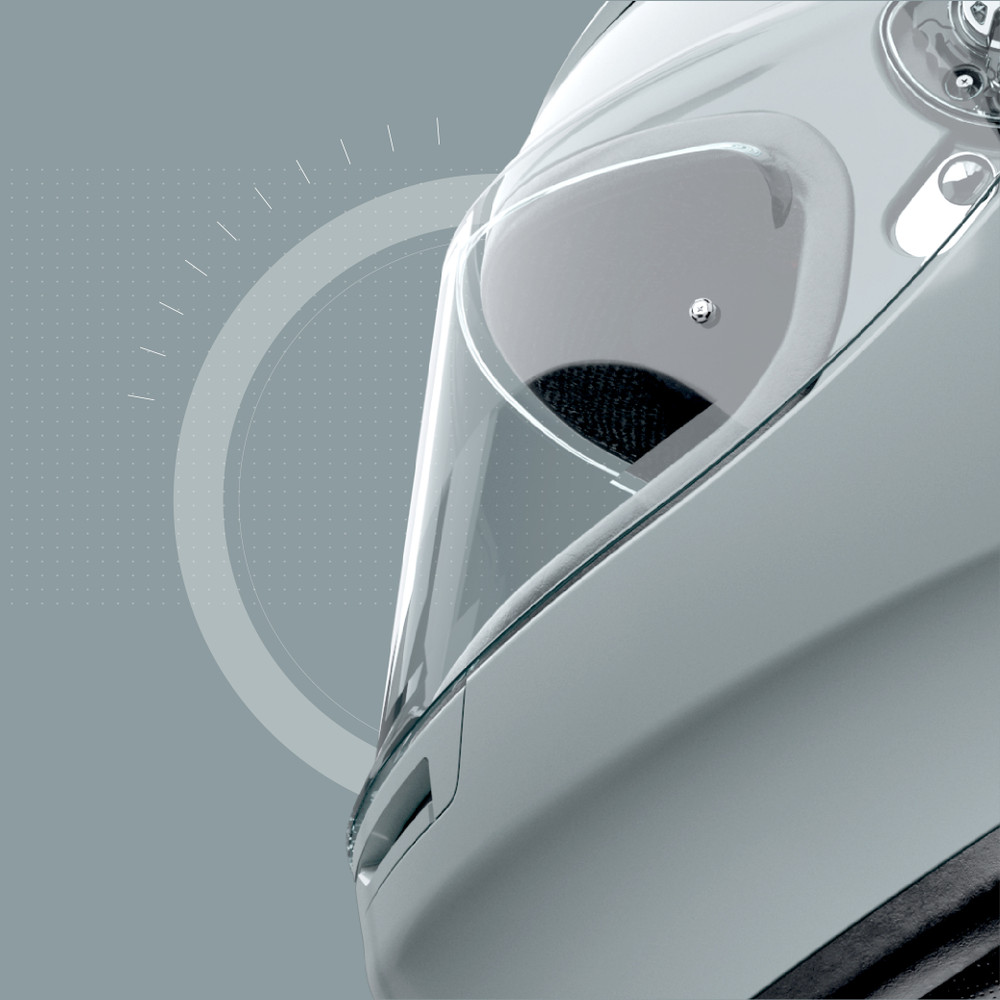 So balanced, it is even lighter
As if holding the record for lightness in the category weren't enough, the K6 is designed to be highly balanced and have a neutral dynamic weight.

The optimal load distribution means the bulk of the helmet is not felt on the head. It's like having all the advantages of a helmet without the fatigue of wearing one.
Technical data

K6 is a helmet for any use and every rider. It is made with technology and materials developed for MotoGP™ riders. Safety, comfort, reliability, and performance are not just words, they are tangible features you can count on. Take your passion with you on every ride, under any condition and on any road.

AGV K6 is 48% safer than the values required by regulation
(average value in ECE 22-05 type approval certification)

Interiors: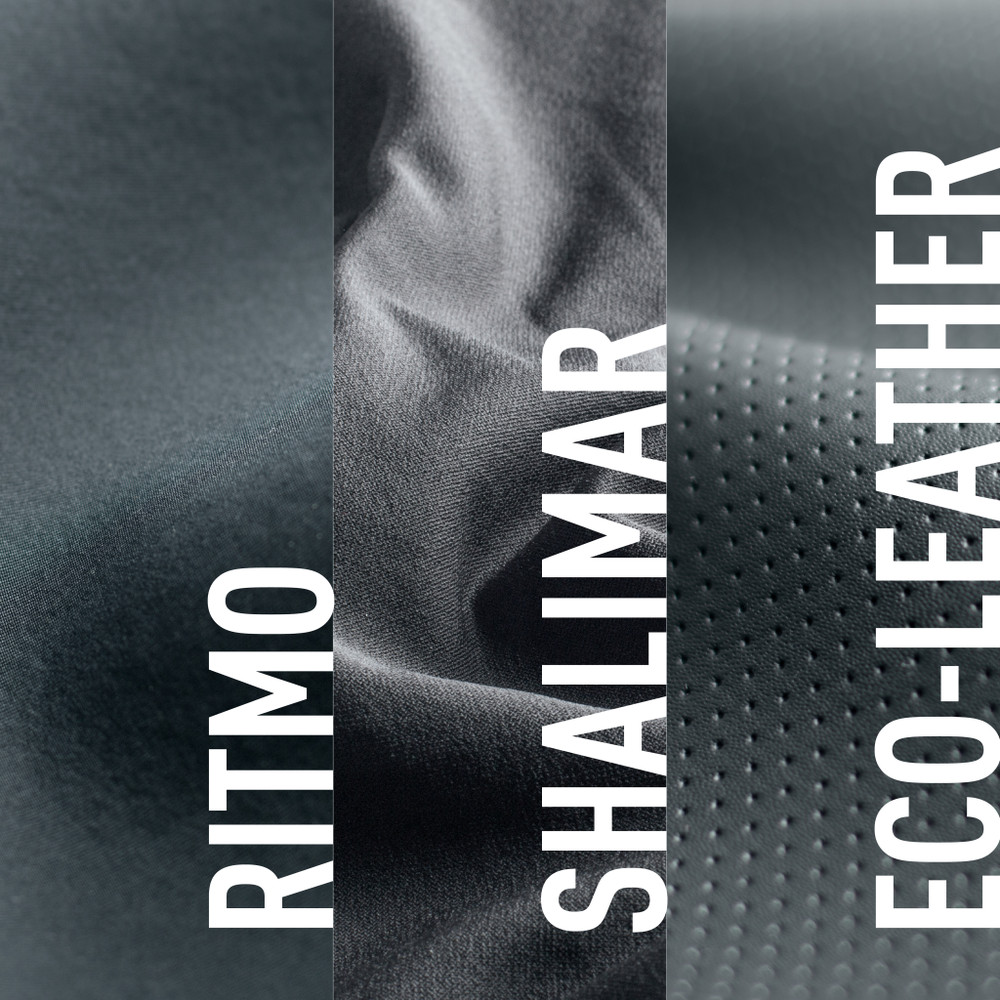 Cool, highly breathable Ritmo fabric


Soft Shalimar fabric with excellent grip


2 Dry treatment for ultra-rapid absorption of moisture and sweat


Outer part in waterproof and wear-resistant Ritmo fabric and faux leather


Sanitizing treatment with antibacterial protection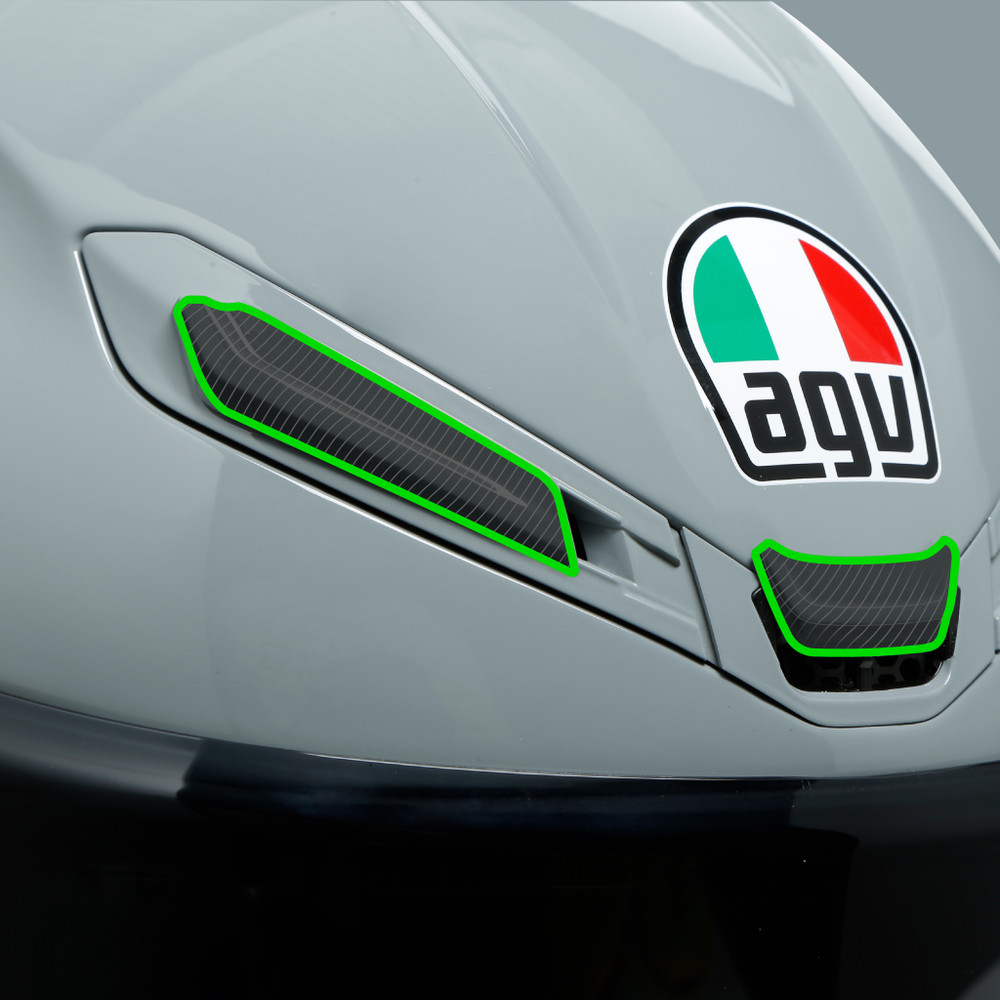 Air Vents
5 adjustable front air vents
2 rear air extractors

Visor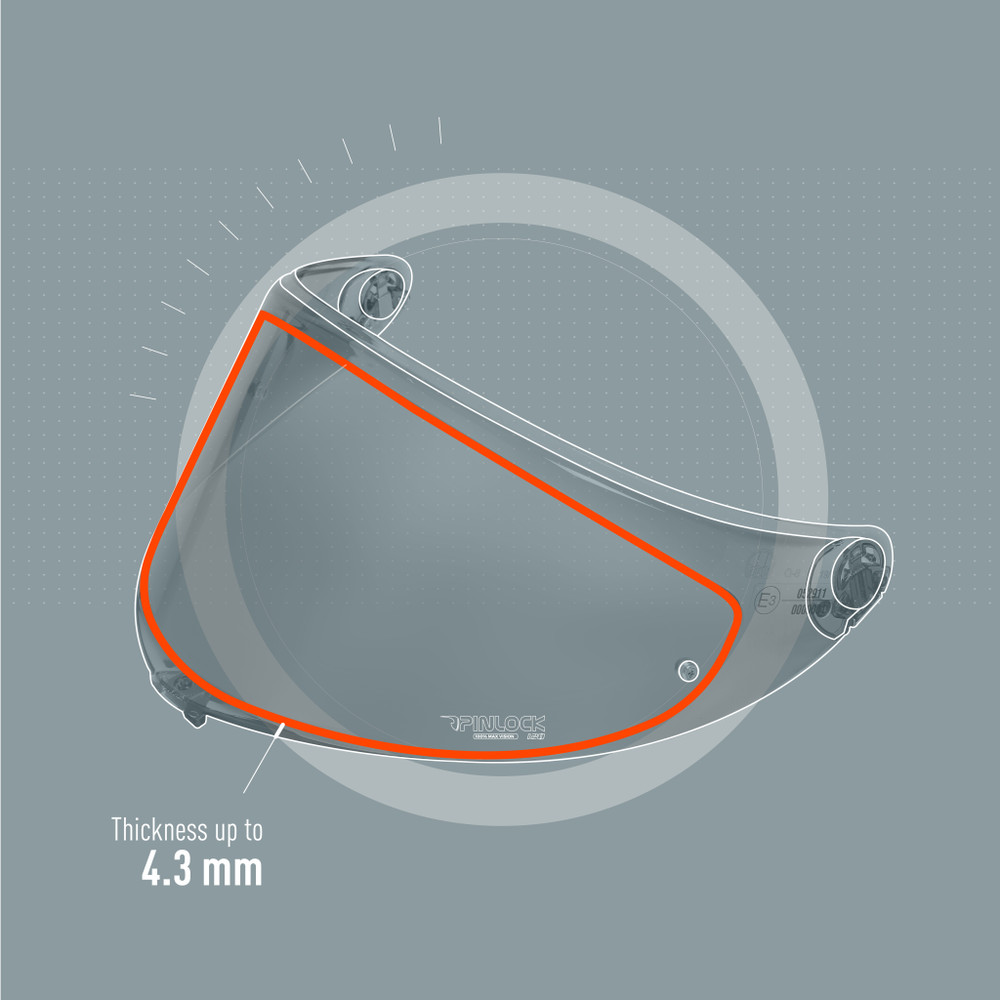 190° peripheral vision


85° vertical vision


Optical class 1


Thickness up to 4.3 mm


5 opening levels


100% Max Vision Pinlock 120


Micro-lock system

Size Chart:

The fit of AGV items is very important to ensure proper protection.
Before selecting your size, we suggest you take a tape measure and measure your head size.
Don't leave it to chance!
Consult the AGV size charts given below for your size!

| | |
| --- | --- |
| Size | cms |
| XS | 53-54 |
| S | 55-56 |
| MS | 57-58 |
| ML | 59-60 |
| L | 60-61 |
| XL | 61-62 |
| 2XL | 63-64 |
 
Refer to our size guide to record precise measurements.
Related Products
---