R&G Radiator Guard for Suzuki GSXR1000 '09-'17 (RAD0084BK)
---
Regular price
Rs. 7,000.00
This product also fits the following bikes:
Suzuki GSX-R1000 (2009 K9)
Suzuki GSX-R1000 (2010 L0)
Suzuki GSX-R1000 (2012 L2)
Suzuki GSX-R1000 (2013 L3)
Suzuki GSX-R1000 (2014 L4)
Suzuki GSX-R1000 (2015 L5)
Suzuki GSX-R1000 (2016 L6)
Suzuki GSX-R1000 (2017 L7)
Suzuki GSX-R1000 (2011 L1)
 Product Details:
Colour:

Black or Titanium

Product Code: RAD0084BK

Fitting Difficulty (1-5): 

1- Easy

Fitting Time: 15 minutes
Description:

Damage to a bike doesn't only come from crashes – a stone through the radiator from everyday riding can cost you just as much money and equally ruin your day. R&G Radiator Guards are constructed from robust aluminium mesh and frame that doesn't restrict the flow of cooling air but adds a secondary layer of protection, preventing debris flicked up by other road users (or even your own front wheel) from causing damage to the expensive cooling systems. Available in a large range of fitments and colour options.
R&G Radiator Guards are available in most cases in black or titanium finish.  They are made from pressed aluminium and feature a neat, seamless frame (where applicable).  They improve the looks of your bike and help to protect your expensive and vulnerable radiator from flying debris.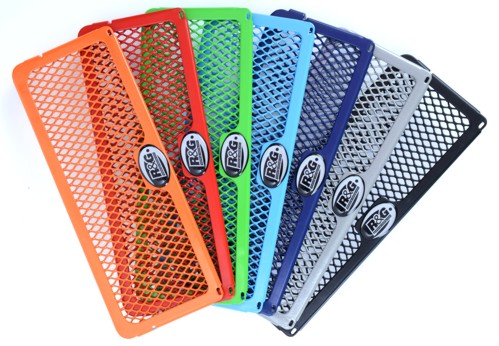 R&G Radiator Guards are now available in a range of new exciting colour options (please note, not all colour options are available for all R&G Radiator Guard applications).
No permanent modifications need to be made to the bike.
This radiator guard is suitable Suzuki GSXR1000 2009 - 2017 models.
 Document:
Fitting Instructions: View


IMPORTANT NOTE:

R&G PRODUCTS WILL SHIP OUT in 3-5 BUSINESS DAYS once order is placed.
KINDLY CONFIRM WITH US ON EMAIL / WATSAPP BEFORE PLACING AN ORDER.

Images shown for illustration purpose only.

Actual product may vary in finish, specifications, look without any discretion from manufacturer.

Refer to your vehicle's user manual for more details before placing the orders.
R&G  products do NOT qualify for any exchange, returns, or replacements.
All claims for warranty to be handled by manufacturer directly under official India Channel partner.
Related Products
---